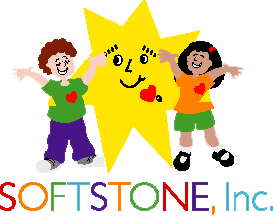 SoftStone Products, Inc.
Our Mission
SoftStone, CJ and his family of characters hope to heighten the awareness of the importance of raising the new generation of children with emotional intelligence.  Children with emotional intelligence will be able to sustain their lives with emotional well-being that promotes kindness, compassion, accountability, resilience, and peaceful, loving environments.  We hope to leave them a legacy of a more genuine world.
SoftStone's History
SoftStone Products, Inc. has been in existence since 1996, though CJ and Karen began in 1985.  SoftStone and its president, Karen Stone, met many challenges along the way, yet her character CJ always remained a hope and a continuous inner voice needing to be heard and acted upon. SoftStone was moved forward with two Small Business Association loans and by becoming a part of a business incubator. The first 15 years brought an array of playful characters and a vision for a children's TV show with them.
Her intention for SoftStone also includes that select materials will be published, fulfilled and distributed by persons with disabilities at the Abilities Solutions Center in Westville and Bancroft.org.  This is a very important part of SofStone's vision as it honors Karen's 45 years of working in the field of disabilities and her son, Darren, who passed away in 2013.
Today, SoftStone and Karen are more committed than ever. This mission is a living testimony to all who have a dream and have met with the same challenges that come with every new idea and every attempt to change the way things are.
Join us, please, in creating a better world where children will grow in emotionally safe environments! Our children's future depends upon it!